Veeam Backup for Microsoft Office 365
-
5.0

out of

5

based on

2

votes
NEWS
Veeam Backup for Microsoft Office 365
Microsoft offers a wide range of powerful services as part of Office 365. But the full backup of your Office 365 data is not part of it.
Veeam® Backup for Microsoft Office 365 eliminates the risk of losing access to and control of your Office 365 data (including Exchange Online, SharePoint Online, and OneDrive for Business). Your data is always hyper-available and protected.
With Office 365, the data belongs to you
Microsoft Office 365 enables your business to run anywhere, without having to set up your own messaging, file, and content management infrastructure. Although Microsoft hosts the infrastructure, it is not the responsibility of Microsoft to maintain a backup of your Office 365 critical data.
With Office 365, the data belongs to you (so you control them) and it's up to you to protect them. With Veeam Backup for Microsoft Office 365, you can:
Protect your Office 365 data from accidental deletions, threats, and loopholes in the retention policy
quickly restore your individual Office 365 objects and files with industry-leading recovery flexibility;
meet legal and compliance requirements through efficient e-discovery of Office 365 backup archives.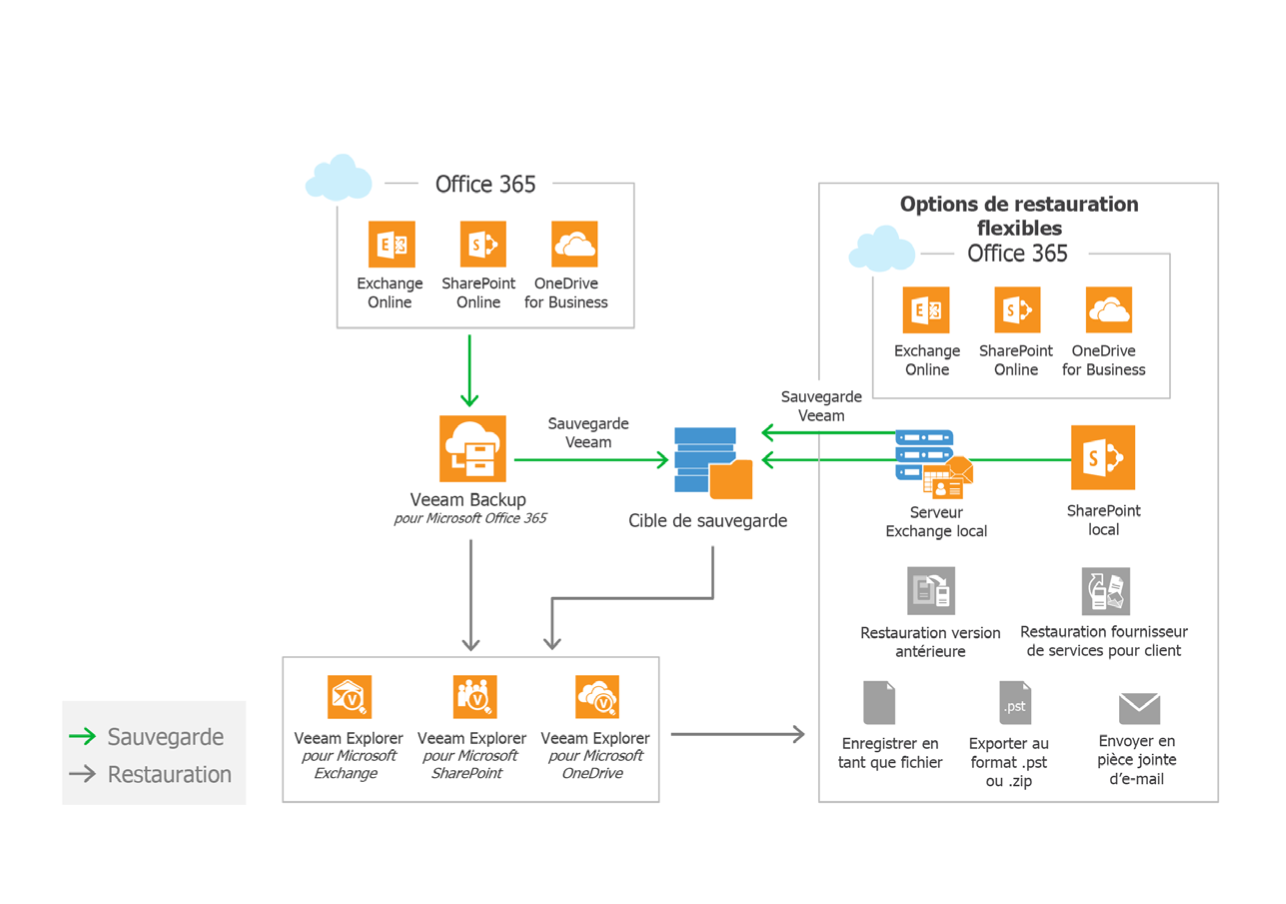 Back up your Office 365 data to any location
Office 365 hyper-availability requires that SharePoint, OneDrive for Business, and Exchange data be securely backed up to another location to minimize risk and ensure that you can restore your users' data when necessary.
Recover Office 365 Exchange Online, SharePoint Online, and OneDrive for Business data from an Office 365 cloud instance. Perform backups every week, every day, or even every five minutes, in native Microsoft Exchange format - a database of Extensible Storage Engine (ESE) archive, also known as "Jet Blue."
Back up Exchange and SharePoint locally using the same APIs as Office 365 to reduce the impact on your data center and make more frequent backups of your users' email data.
Store your backups in the location of your choice, including locally, in a large-scale public cloud (Microsoft Azure or Amazon Web Services), or at a regional service provider.
Make backups of unique, localized versions of Office 365, including those for the US Government (DoD and non-DoD), Office 365 Germany, and Office 365 China.

Restore Office 365 with the best flexibility in the market
Rely on a reliable, granular, and easy-to-use restore of your Office 365 email objects, SharePoint sites, documents, libraries, and lists, as well as your OneDrive for Business accounts, files, and folders.
Quickly search and granularly restore individual mailbox objects in an archived and protected copy of your Office 365 data.
Direct restoration of Office 365 objects by several recognized methods gives you unparalleled flexibility.
e-discovery of Office 365 email archives
Without a readily available local copy of your data, retrieving your email for regulatory or compliance reasons can be costly and time-consuming and can cause a major disruption to your business.

With Veeam, take advantage of familiar advanced search capabilities and flexible restore and export options to e-discover Offce 365 email archives - just as easily as with traditional local backups.
---
---